For anyone who could not attended the webinar, we have posted the recording right below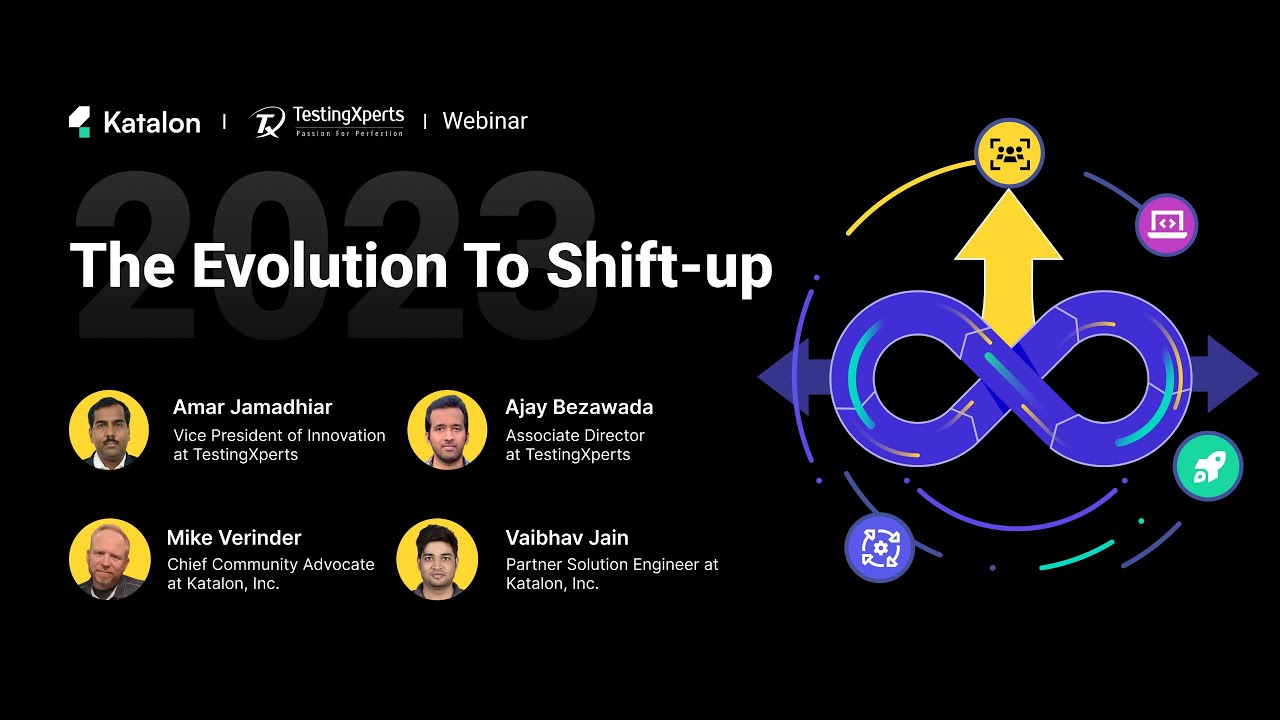 ---
Hi Community members,

QA (Quality Assurance) has grown in importance for software and apps development businesses in the last five years. This has led to debates about shifting development and testing left or right. But they missed another aspect: "shift-up", which involves listening to and serving your customer.
By embracing "shift-up" and using AI-driven testing in a robust QA framework, you can satisfy both customer and business needs, gaining a competitive edge. It's important to value and acknowledge every customer's feedback.
Join our webinar for the insights of:
Exploring different dimensions of shift-up testing (e.g., usability, performance, security).
Identifying the synergies and interconnections between shift-left, shift-right, and shift-up, and how they fit into the QA cycle.
Best practices for capturing user feedback and monitoring system behavior.
Aligning testing efforts with business goals and user experience.
Our speakers
| | | | |
| --- | --- | --- | --- |
| Amar Jamadhiar - Vice President of Innovation at TestingXperts | Ajay Bezawada - Associate Director at TestingXperts | Mike Verinder - Chief Community Advocate at Katalon, Inc. | Vaibhav Jain - Partner Solution Engineer at Katalon, Inc. |
| Amar is leading innovation and delivery of NextGen Testing, DevOps and Digital Services at TestingXperts. Amar is a passionate hands-on business leader with over 25 years of global experience in building and delivering innovative and disruptive solutions to a wide range of customers across various domains. In the past, he has led various initiatives spanning across different functions from setting up processes, CoE, service portfolio, developing and managing technology solutions, managing large global accounts, business development to driving customer success. | Ajay currently works as an Associate Director at TestingXperts where he contributes to Innovation & Test Automation COE practice. He has over 10 years of experience in the field of Test Automation, RPA & DevOps. Ajay has successfully implemented QA Automation for multiple clients across industries and domains. He is adept at architecting the best test automation solutions and has been creating value for clients. | Mike Verinder is the Chief Community Advocate at Katalon. Mike has 20+ years of experience in digital technology. He is an expert in Automation, Cloud services, AI DevOps, Digital Transformation, and more. Mike also founded and has managed the Selenium Automation Users Community of 181K+ members. | Vaibhav has over 11 years of experience in the software testing industry in multiple roles as responsible for the assurance, management and association of automation using multiple automation tools. At Katalon, he is a solution engineer to help partners/ customers obtain empowerment with katalon and helped them with technical challenges. |
---
To check out our upcoming webinars, you can go to: