You are currently reading Part 1 of our Getting Started Guide
Part 1: Setting up your Profiles
Part 2: How to Search the Community?
Part 3: How to Ask the Community?
Part 4: How to Get Solutions from the Community?
Part 5: What are Trust Levels?
Part 6: Get recognized for your contribution with the Kudos Board!
Part 7: Badges - Gotta catch 'em all!
Part 8: Katalon Community Sitemap
---

Welcome to the first entry of our Getting Started Guide to help you get the most out of our Community! Follow the guide below to learn how to customize your profile and more!
1. Personalize your Profile
Let's admit it, we all want to stand out, one way or another. And our Community is designed to enable you to do just that, with profile customization options beyond just changing your avatar and username.
Basic customization
From the homepage, navigate to your User Profile Menu on the top right corner, click on the "People" icon
and choose

Preferences.
On the next screen (User Preferences > Account), you can change your:
Avatar picture
Username
[Optional] Full name
[Optional] Change or add an alternate email address
Note: Non-employees are not allowed to use the Katalon name, logo, or related imagery in your avatar as per our Community Guideline.
Advanced customization
Click on Profile on the left sidebar, and here you can add/change your:
About Me (think of it as a short introduction to yourself)
Time zone
Location
Web Site (maybe you've got a project or a portfolio that you'd like to share with others?)
Profile Header
User Card Background
Featured Topics
[Optional] Date of Birth (this is for our Cakeday feature where a cake emoji would be displayed next to your username on your birthday - if you choose to set one up - or your join anniversary)
Region
When you're done, click Save Changes and you're all set!
2. Get to know our team & other members
Even a technical community is first and foremost a community of people - so let's get to know each other better and chat!
Simply pop in HERE, reply to the first topic, and tell everyone a little bit about yourself!
Should you run into any issues while on the Community, feel free to contact one of our moderators or admins, or start a private message and tag our @team into it!
3. Have you met Discobot?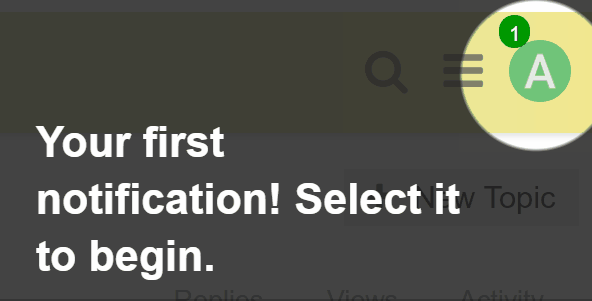 When you logged into our site for the first time, you may have received a message from Discobot - our friendly automated bot - welcoming you to the Community. Did you know that it can also help you to familiarize with some of the Community's interactions & navigation? e.g. how to create a topic/post, quoting, formatting texts, and the likes.
Simply create a private message and then type in @discobot start tutorial to start a Basic tutorial, complete it, and earn a cool badge!
Once you've completed the basic tutorial, start the advanced tutorial with @discobot start advanced tutorial in the same message. This grants you a second badge

---
That's all for now. If you have any questions or issue, feel free to reply to this topic and we'll be more happy to help

---
Up next: Part 2: How to Search the Community?
---